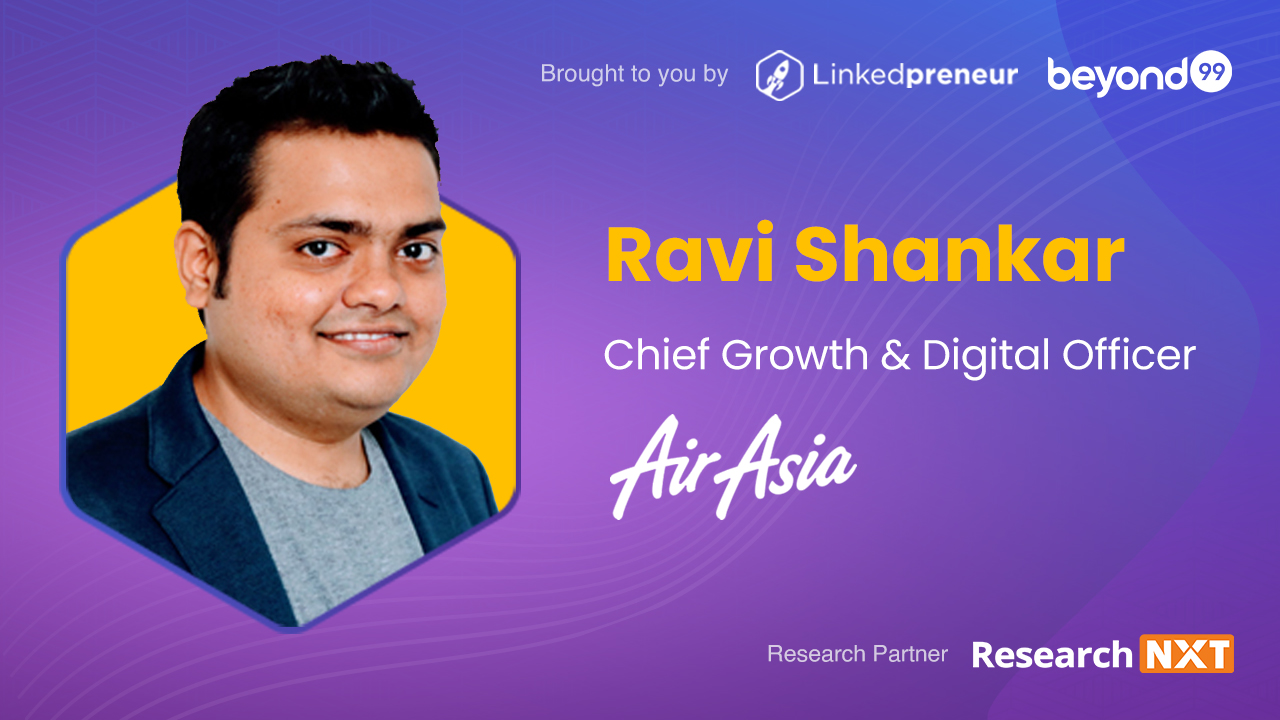 Ravi Shankar emphasizes digital innovations, employee empowerment, and mobilization to ride the tough times with strategic focus.
In this Research NXT Interview, Ravi Shankar, Chief Growth Officer at AirAsia, talks about his team's digital innovations within AirAsia and how the lockdown further accelerated the innovations to push the limits of the marketing channels they have. Additionally, he emphasizes the need for cultural shift and direction from the top-level leaders to instill a sense of courage to take those risks, be innovative, and adapt to the new normal.
Key takeaways from this Research NXT interview:
How AirAsia consolidated the digital team in-house to increase transparency and increase the go-to-market speed.
His observation of how things have changed in the airline industry and AirAsia's digital side.
AirAsia's Digital 3.0 journey, the transformations achieved, and the additional business initiatives and innovation this year.
Here are some extracts from the insightful conversation we had with Ravi.
Research NXT: Hi Ravi, first, thanks for joining us today for this conversation. I want to start with your role and journey in AirAsia, and what are your observations around the business?
Ravi: I look at digital marketing and commercial analytics in AirAsia. However, I am also involved in new initiatives focused on Growth and Digital. My role at AirAsia encompasses being the bridge between tech and the commercial because I've worked in both facets of the organisation. I also look at the commercial impact and feasibility of the product development process to ensure commercial success. It puts me in a unique position to analyze the development process at a product level to avoid any roadblocks later.
Initially, I started with digital marketing and other analytic stuff. However, as a strategy, I terminated all the paid media agencies that AirAsia was working with and consolidated everything in-house. I grew the team from 8 to almost 60 across all the regions that AirAsia operates to increase transparency and increase the go-to-market speed. Since a lot of data is used in the marketing activities, bringing in a third party involves adding an extra layer of complexity. With all the data governance policies, it becomes imperative to use the data effectively and expediently. With this new setup and faster data supply to the digital marketing platforms and channels, we are in a better position to innovate and try new things.
" The proudest innovation that we did is that we built a system that identifies a non-performing route voluntarily and automatically launches aligned marketing campaigns without any human intervention and manual analysis."
Research NXT: Since you joined AirAsia, there have been many changes and developments within its Digital Marketing strategy. Could you please elaborate on the kind of initiative and innovation that you introduced and the resultant impacts?
Ravi: The digital marketing within AirAsia when I joined in was not fully aligned, and the contribution of the paid digital marketing to the bottom line was less than 1%. This made me re-establish measurement frameworks and standards across all markets. Initially, digital marketing success was attributed to the number of seats sold per campaign. However, we understood that it is not as simple, and no matter how good the algorithm, even that of Google or Facebook, it cannot optimise towards the end goal as many external factors are involved, like customer's personal, professional, and technical variables. For example, factors like if the person has approval from the family members before going on a vacation, if the person's leaves are approved or if the person's wi-fi connections are working simply fine while booking the tickets etc. This is just an example of the framework that we put together to measure the right things, and everybody has clear accountability. We also did a lot of innovation within Digital Marketing. For example, we used webhooks to send chat bot messages for people if they forgot to add tracking to their campaigns. We also created feedback loops for the creative team to check on the performance of their creatives. We also established a pipeline where the customer's data could directly feed into the ad platforms. This led to better campaign management, and the marketing teams could select the segment of people they wished to communicate to from the database, and it goes directly to the Facebook account and all that.

" The proudest innovation that we did is that we built a system that identifies a non-performing route voluntarily and automatically launches aligned marketing campaigns without any human intervention and manual analysis."
Research NXT: The travel industry was one of the worst-hit in this pandemic, and AirAsia being a carrier of travelers, must have received the burns of it. So, what has been your team's focus during this time?
Ravi: If you look at all these innovations that we did, it constantly needed support from data, the product, the tech, and the DevOps, for that matter. And when the pandemic hit, we had to transform ourselves. We started to focus and develop on the internal channels to ensure retention. Since our biggest marketing channel is not Facebook or Google, our assets themselves, i.e., the website or the app, naturally evolved into this growth role model of becoming a cross-functional team that works with all organisation facets, including tech commercial, and data. We started building these growth products to retain the customers within the ecosystem. So, yeah, that is how we evolved into it, and that's kind of where we are right now.
Research NXT: As an industry leader, what have you observed regarding the post-pandemic scenario changes? What is your observation of how things have changed in your industry and your company's digital side?
Ravi: Some companies benefited from this pandemic, right from Ecomm to streaming platforms to gaming companies where the engagement levels naturally increased. For these businesses, all they had to do is scale their marketing efforts and logistics. They did not have to innovate in marketing; rather, they had to spend a bit more and scale their marketing efforts. In terms of innovation in marketing, I think it would have been less because they would be busy scaling the operations.
But if you take players like us who are directly impacted, we had to scale down the operations and, at the same time, completely redesign and innovate how operations are being run or should run because suddenly there is an element of the contactless business. So, in an environment, like an airport, and an aircraft, where people are very close to each other, and there is a lot more human interaction from checking to onboarding to everything else, you have to completely redefine that in terms of operations. It is not like we define those operations; we have to work with the airport authorities and the regulators in order to do this. That was the biggest challenge. Simultaneously, the customer-facing team's workload increased 10 to 50 times because people were cancelling, asking for refunds, changing the flights, etc. Thank God we had a bot (Ava) that kind of helped and took a lot more queries. There were still many gaps, especially during the initial pandemic stage. on the operations and the customer service side of things.
However, when it comes to marketing and comms during that stage, the way we were doing stuff kind of evolved completely. Because on the one hand, we should be communicating the changes that are being made in the operations and on the other hand, marketing itself has to carry on as usual because if we don't do that, we will have a lot more confused customers stranded at the airport with no clue what they should be doing. So, for the first, I would say 10 to 15 days or so, our motto was "it's not time to sell; it's time to serve." We tried to provide whatever information we could to make their journey or the refund smoother. There was a lot of panic, anxiety, anger, and people were stressed. It was a very emotional time, so we had to be truly clear on how we did marketing there.
" This lockdown accelerated our innovation, primarily to push the limits of the marketing channels we have."
Research NXT: AirAsia had already started its digital 3.0 journey, and then this pandemic started. How did it affect your plans and schedules in terms of strategies regarding the Digital 3.0 journey?
Ravi: Yes, we started our digitalisation journey started as far back as 2016, and we were moving towards becoming a travel tech super app company. However, irrespective of the pandemic, our transformation has accelerated quite a bit. We have recently launched many businesses during the pandemic, like a seamless food delivery solution called airasia food, with orders made via our airasia superapp, ; we launched the airasia shop, which sells retail travel products and some duty-free products. We also launched our own logistics business as the last-mile delivery. This last-mile delivery was launched utilising staff not working then as air travel was restricted. So this crew, i.e., the ground staff, all turned into delivery agents. We also launched airasia farm, a B2B app that provides fresh vegetables and other products directly from farmers to the restaurants, cutting down the middleman and cost. We also launched our content business.
This lockdown has in some ways accelerated our innovation, primarily to push the limits of the marketing channels we have. At the same time, we pushed our people to do something rather than sitting idle. So that serves the purposes on both ends. So obviously, when we learned more about marketing, and when we launch new businesses, we started without the paid channels and used our channels like email, push notifications, and other internal assets that we have. We started to consolidate those and tried not to cannibalize each other. We came up with a global frequency cap where users should only receive a stipulated amount of communication. We also worked with the data science team, looked at the previous customer behaviors, connected them to the propensity to buy a product from us, and came up with these probabilities and propensities.
Simultaneously, we were also innovating the use of our app which was initially mostly only used for ticketing. Since ticketing was not very active during the lockdown, we launched the app's community feature to bring people together to exchange their traveling aspirations. In these lines, we launched communities of groups and recently launched a chat platform in the app that can be used to connect with fellow AirAsia app users. Once we had some traction on the app, we started cross-selling and upselling other businesses in those communities, like airport transfers and mobility. AirAsia transformed from an airline to a travel tech company and has added many business lines within the system, and the internal marketing channels fueled the initial growth. We had to go through the innovation and transformation phase at both the marketing and commercial level backed by tech, and at the operations level of things, we being an airline, experienced it first-hand.
" Culture needs to be instilled from the top-level perspective to other leaders to give them the courage to take those risks, take those chances, be innovative, and then ask them to adapt to the new normal. And that sense of empowerment will make a bigger impact than anything else, I would say."
Research NXT: Now that we are all talking about the new normal, but unlike any usual financial year this year, it is already completely different from whatever we have done in the past. And the planning for 2021 will be quite different from what we would have done otherwise. What are your top priorities and recommendations for 2021?
Ravi: One thing is for sure is that if you keep doing what you are doing and expect that the demand or the business would naturally pick up and things would be normal, it is not going to be right. Even if your business benefited from this pandemic, you have to adapt to what is coming in 2021 because it's not how the business operates; rather, it's how the consumers' behavior is changing. So here are the top three priorities from a digital transformation standpoint.
1. I think the fundamentals of any organisation are the business measurement framework, and you have to decide and be realistic on what you have to do and when you want to achieve it because the businesses have gone through the transformation phase of diversifying, and hence we have to now define what the target should be and what we should be achieving. Then we would be required to distribute specific or high-level goals to the rest of the departments, and then they will come up with specific goals of what they are going to achieve based on the high-level strategic goals. Accordingly, the CFO will have to readjust the numbers, the financial forecasting, and change the measurement framework.
2. In terms of marketing, of course, you must look at your earned and owned channels to compensate for the traffic they used to get from the paid channels. So that is what we've been doing and that is the fundamental change that marketing should be looking at because that's the new normal where you have to establish that direct consumer relationship with the brand without any mediators like Google and Facebook. Also, for marketing, the biggest change of all this is that once you have a new channel, your app, and your website or your property, how do you add and build products around them. Marketers can either introduce referral programs, gamify the app interface to bring in a high frequency of users regularly, and give them a reason to come back again every day. Additionally, marketers can use the power of data to cross-sell and upsell within the ecosystem. Again, since the acquisition costs will be high, everybody's coming back and trying to win the attention. Marketers should focus on maximizing the return from the existing user and increasing the basket size.
3. Thirdly, I think executing operations is a completely new challenge as they might probably be already thinking about making everything contactless and more efficient. At the same time, they should be hitting the goals of whatever the commercial side aspires to do. This comes with the challenges of pricing anything because marketers had years and years' worth of large data set of previous behaviors and pricing elasticities that they used to lean back on whenever they required to make a pricing decision. But all those data and algorithms now are completely at the reset. So, they have to fundamentally change the pricing model specifically within the travel industry and adapt to a more dynamic pricing structure, more like an eCommerce player, which is based on availability and demand. So, we must change our mindset from what worked before to what is hot right now. This is the fundamental change that pricing teams should look at. I mean, the business itself might become a new business, and during this, there are some guesses and risks we would require taking, and we should be conscious of it.
Culture needs to be instilled from the top-level perspective to other leaders to give them the courage to take those risks, take those chances, be innovative, and then ask them to adapt to the new normal. And that sense of empowerment will make a bigger impact than anything else, I would say.