Have you ever wondered why is your marketing strategies not driving results or what exactly is going wrong when you are setting up a campaign? Well, even if you are new or old to the digital world, its important to know Hoe to improve your marketing ROI and improve your business campaigns. So, What's better than learning from an expert who is ruling in this field for over 20 years.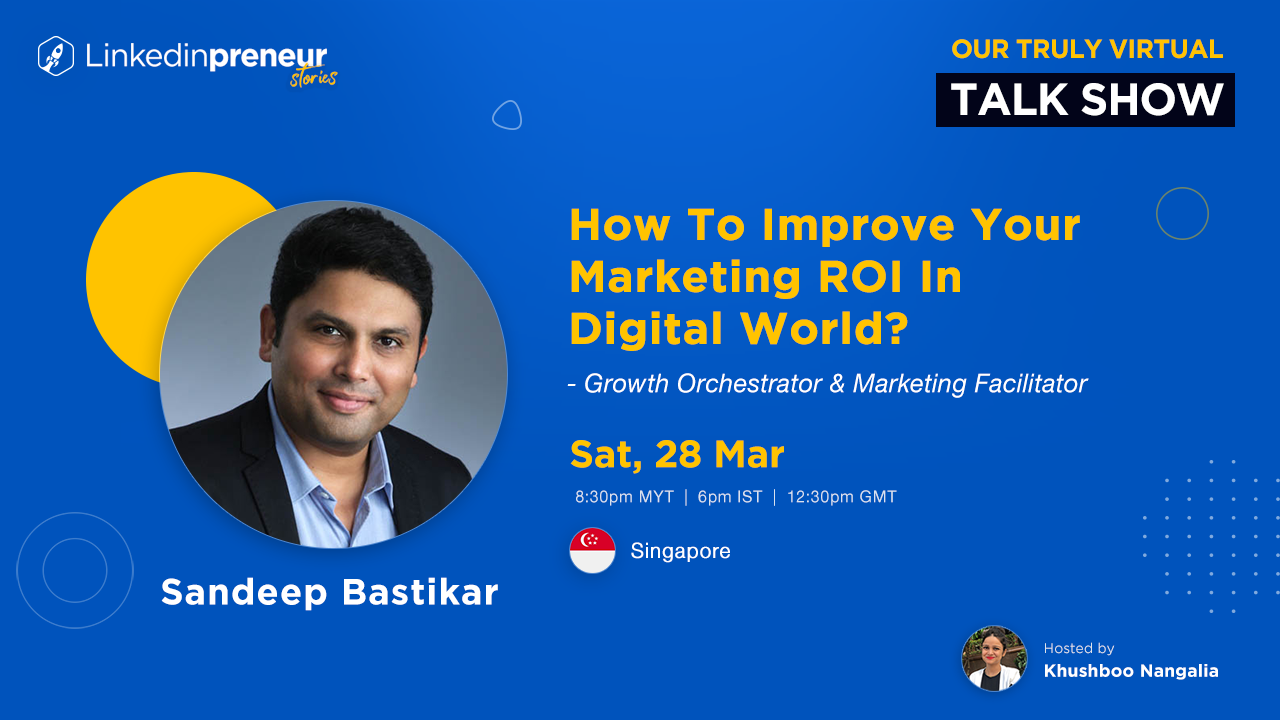 In today's EP05 of Linkedprenure Stories, we present Sandeep Bastikar - Growth Orchestrator & Marketing Facilitator. He is a results-driven digital marketing professional with a consistent track record of increasing sales and market share.
He is also a seasoned online marketer with expertise in Programmatic, Search, Social, Online Advertising and Marketing, E-Commerce Operations and Web Channel Management, Social Media, and Mobile.
He is here with us to share the in-depth knowledge of ROI and why is it important for businesses. He will be also sharing his views on why ROI is not just the monetary aspect, it is about how you portray your message, how effectively you communicate with your audience and many more
In the rush to return to normal, you could use this time to consider which part of normal is worth rushing back to
Watch this episode of Linkedpreneur Stories for COVID-19 special and know How and what marketing really means for your product and how to measure the success of your business and keeping in mind this COVID situation should big brands Advertise or not during this pandemic and much more
Here is a sneak peek from today's episode:
Rapid Fire Round
Top 3 websites - Occam's Razor by Abhinash Kaushik, Rich Roll, Impact Theory
1 business Mentor - Dr. Clyton Christensen
Life Mentor - Family member
1 Book - The Principals
Favorite T.v Series - The Viral, Dirty Money
In this Episode, You are going to know
Should any of the big brands invest in the advertisement in the current situation of COVID?
How important it is for a company to hire a PR person?
5 key factors that could lead to ROI in digital advertising?
How does he look at the scenario or situation when apps get shut down?
3 things that the brand should do as they get back to their normal life after this COVID situation is over?
How important it is for a startup company to have a marketing mindset in it?
His take on ROI
Well, it was such fun chatting with Sandeep Ji and get to know an in-depth knowledge of ROI and why it is not just about money. I simply loved how he explained all of it in detail.
If you are a startup or what to know tricks and tips then tune in to today's episode.
Get in touch with Sandeep Bastikar at