Failure is a part of life and can be depressing and difficult for many people, but just because you failed in the past does not mean you will keep on failing. It is important for everyone to learn a lesson from their failure so that they can rectify themself and can win today. With a dash of persistence and a splash of hard work, nothing can ever stop you from winning today if you treat your failure as a lesson to learn.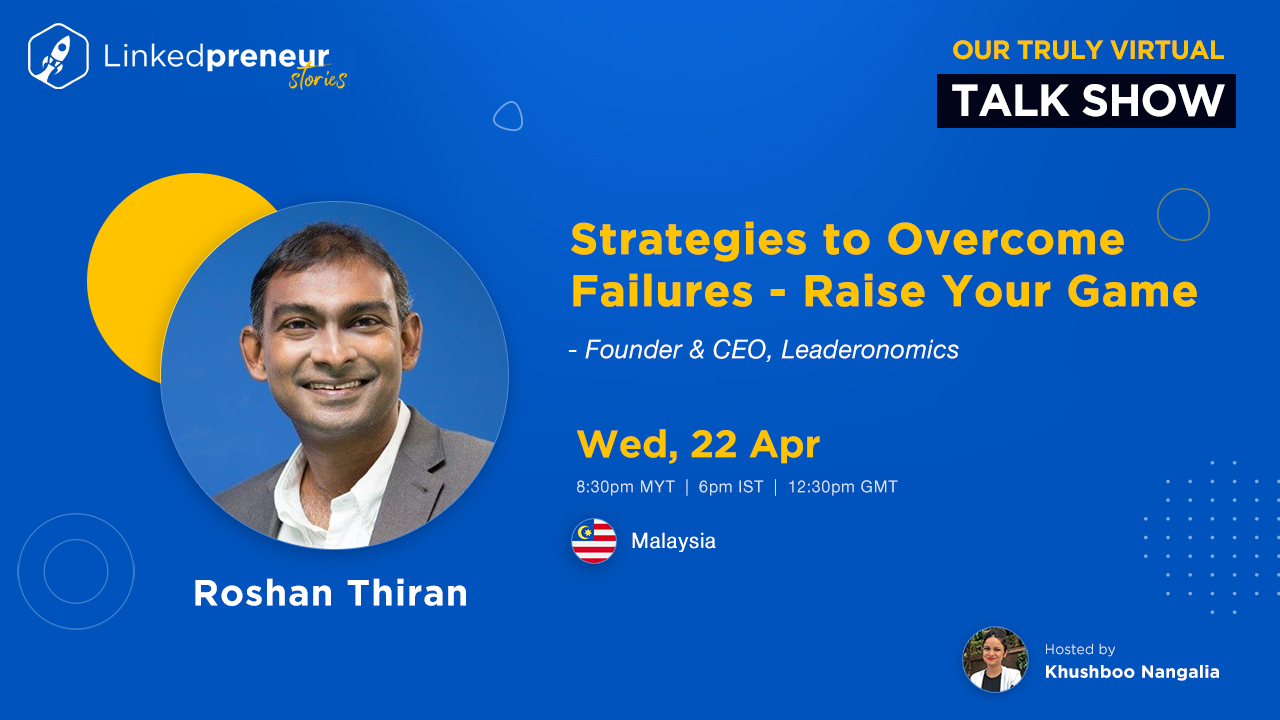 Our second guest of #Linkedpreneur Stories - Edition 1.2, Roshan Thiran - Founder & CEO of Leaderonomics, a social entrepreneur, a key-note speaker, and also a leadership author. He is someone who does not fear to admit his failure and tends to learn something from them.
He is here with us today to talk about the COVID crisis and why should we take this opportunity to do something and not lose hope. We need to look at things from a different perspective and try to use them in a positive way. He will also tell us How exactly can we face our fears, combat it, and raise our game in the corporate world.
For him, if you want to become successful then the first thing is that you take all the opportunities, tackle with the difficulty, find a way to execute, and moreover feel the grief on your failure and try to let go.
Don't ever waste a good crisis, never let a good crisis be wasted
So if you want to know more about Success and Failure and How to overcome the challenges then watch today's Linkedpreneur Story and get a step closer to success
Here is a sneak peek from today's episode:
Top of the mind round
Top 3 books - Control your destiny or somebody else will, Give and Take, The Starfish and the Spider
1 Business Mentor - Mike Petrocelli
1 Life Mentor - George Kohlrieser
1 news website - Forbes
1 Animal you relate - Dog
1 T.V show - The Good Lier, The negotiator and many more
In this Episode, You are going to know
What Roshan does to keep himself sain?
What's that one failure in Roshan's life that made him what he is today?
As an entrepreneur what was the biggest blow that came in his way?
How to handle situations and combat them when failure comes in the way?
What are those 5 qualities a great leader has it?
Some good habits of an entrepreneur?
What is his take on Linkedin as a platform for leaders, entrepreneurs, or even for the employees and not look it as a job platform as it was years ago?
What are the main factors to see when starting a new company on a small scale?
It was an amazing experience talking with Roshan, he really explained so easily that why we should find opportunities in every situation and utilize it. So, guys lets not lose hope and start taking this time as an opportunity and make the most out o it. Tune in to today's episode to more from Roshan.
Get in touch with Roshan Thiran at