Customer Retention is a very important factor for every company, be it small or big. It is basically the backbone of a successful business. Customer Retention helps in increasing the customer's lifetime value and also boosts your revenue. It is the process through which marketers engage with existing customers to continue buying products or services from their business.
While customers on this day are becoming less loyal to brands, it is important to put effort into your customer retention marketing. It's just not keeping an extra customer on your list but treating them with respect as they are a part of your business.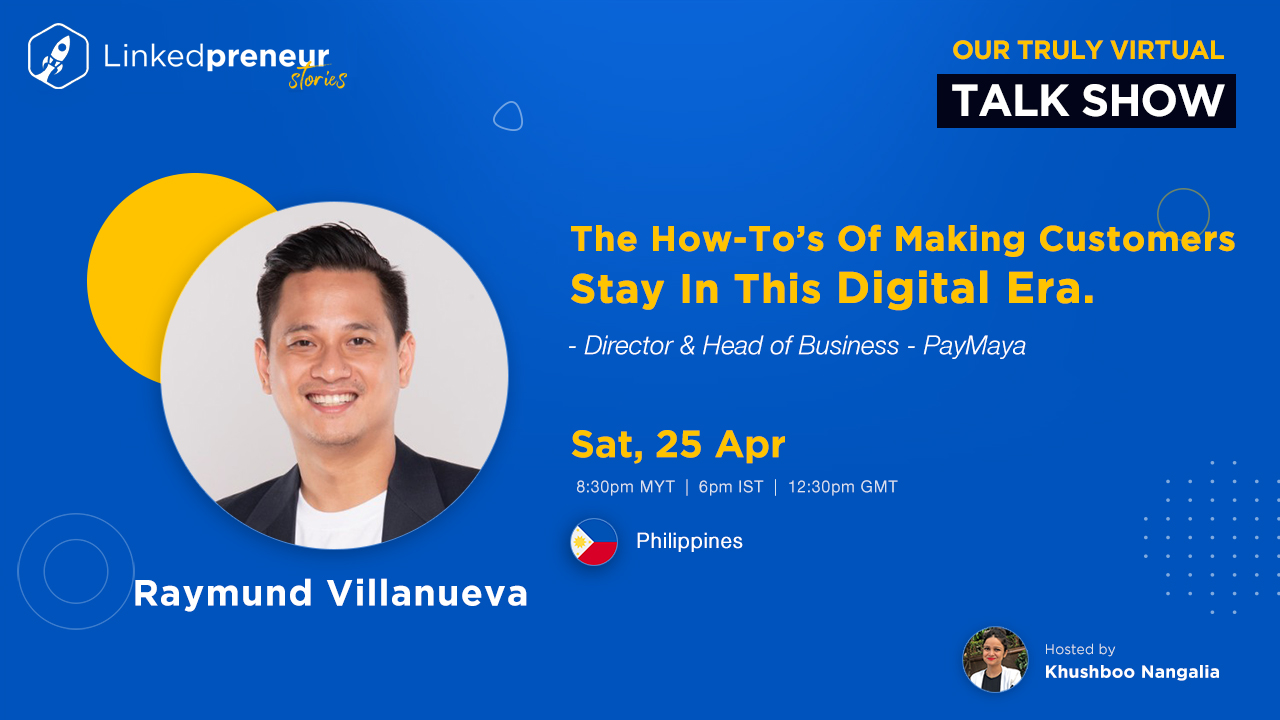 In today's EP05 of #Linkedpreneur Stories - Edition 1.2 we have Raymund Villanueva - Director and Head of Business - PayMaya Philippines and who has covered a huge space in the Philippines.
He will be sharing with us The How-To's of Making Customers Stay in This Digital Era. He will be also talking with us on How exactly the country doing there along with its market update.
He learns from his failure and takes it in a positive way. Retention or acquisition should be your first priority. It is important to take feedback from your users and make them keep coming back should be the focus before even dropping your giant acquisition. It is useless burning your cash for no reason, therefore set your campaign and goal then execute.
Focusing your energy on what the job is to be done is and what you are trying to achieve is going to be a critical piece
So if you want to know the tips and tricks on how should you keep your customers loyal toward your brand then this is the right episode for you
Here is a sneak peek from today's episode:
Top of the mind round
Philippines - love
Work - love
COVID - Take it seriously
Bucketlist - Drive around Philipines in bike
Live - Passion
Love - No1 priority
Startup - we need more in the Philippines
PayMaya - Philippines tech company
Family - Most imp thing
Secret - not gonna tell you
Money - Not imp any more
Dream - To bring the Philippines in the global stage
Raymund - Somebody that can help the Philippines move forward
In this Episode, You are going to know
Raymund's journey from San Fransisco to the Philippines?
A campaign that did not perform well for Raymund?
What are the advantages and Disadvantages of PayMaya?
What are Raymund's suggestions, should brands spend at the moment or be calculated?
How to manage our thoughts when you have so many things to learn in a very small time. I mean when you are dying to achieve something and at the same time you are stuck with a lot of important things and not able to do what you want to do?
What Top 3 tips Raymund would like to give to B2C marketers to drive engagement during this COVID times when their businesses are slow
Since the current situation is expected to be the new normal so how is your company dealing with this and how customer engagements are being done or how are we targeting our customers now?
What is the one thing Raymund wants to be remembered for?
It was great chatting with Raymund especially during this crisis and gettings his professional tips on how the marketers should pay focus on customer retention and bring out strategies to keep their loyalty and not to lose hope.
Tune in to today's episode of #Linkedpreneur Stories - Edition 1.2 to get more insights on Philipinnes market and their situation out there
Get in touch with Raymund at