Being an entrepreneur is not that simple. in this modern world, people are in love with entrepreneurship. Everyone wants to start their own business, hold a prestigious position, and want to overthrown other entrepreneurs. But little did we know what it takes to be a successful entrepreneur? What are all the difficulties that had to overcome to become one successful entrepreneur?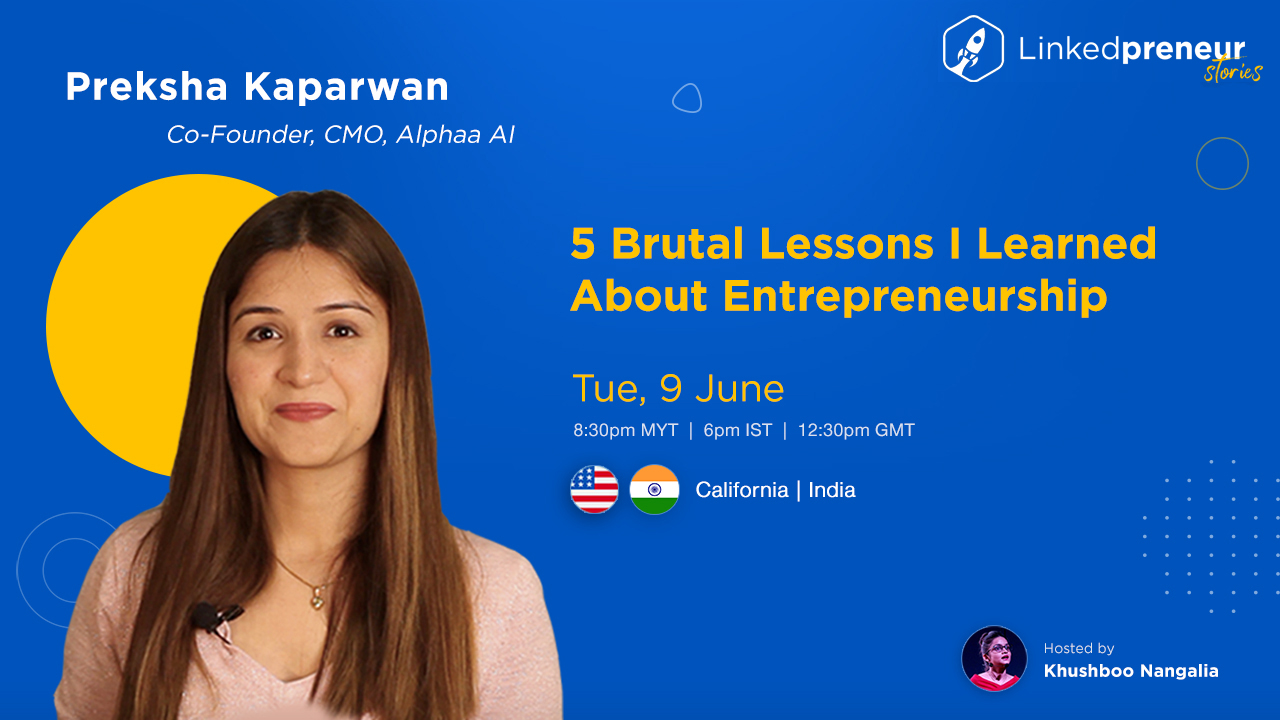 We have one such person who is gonna share her "Brutal lessons of her entrepreneurial life". In our Episode 1 of Linkedpreneur Stories Season 2, we have Preksha Kaparwan from #India and #California. She is the Co-Founder and CMO of an AI-based platform. In her early career days, she has also done some amazing, exciting work.
So, be patient as today she is going to share everything with us. How did her startup go or what exactly went wrong in the first place? Yes, she is here to share all this. Earlier she was a Sous Chef then she became a software designer and then she became a chief marketing officer to an AI-driven platform.
She shared that it is not good to save cost when it comes to startup entrepreneurs, don't save the money and try to keep rolling that on your business to grow further. Try being vulnerable that is how you will get help from others.
No one is going to give validation except your customers.
So, if you want to know more about the Brutal lesson for entrepreneurs and how exactly you can overcome that failures then watch today's episode of Linkedpreneur Stories and get to know all the tips that Preksha shared
Here is a sneak peek from today's episode:
Top of the Mind Recall
Failure - Too many
Passion - Street food
Challenges - Do the thing that you have challenged me
Female entrepreneurs - Plus point and much needed
LinkedIn - To the point
Change - love it
COVID - Unfortunate
Dream - To be big
Homemade Dal Chawal - love it
2020 - Very disappointing
Family - love them
Alpha AI - Data equality
Preksha - Ambitious
In this Episode, You are going to know
During this COVID-19 situation, how exactly did you manage to hold up your company and look at that?
Earlier you were a Sous Chef then she became a software designer and then she became a chief marketing officer to an AI-driven platform. How did this happen?
Did you go through any training or classes? Or was more teaching yourself and self-learning?
Do you think you were too early to introduce your product to the market or the market was not ready to take that kind of a product which was a little ahead of the time?
What were the Brutal lessons that you learned during your work span?
How should we strike balance between validation and keeping your ideas safe from people copping it?
How do you define Alpha AI?
Particularly students tend to start a startup in their college years, the situation is they need job security. How students startups bring in that motivation among themselves?
It was lovely chatting with Preksha and get to know who she is as a human and also what hustles she actually faced, be it from family as well as being a women entrepreneur. I am sure her story will inspire a lot of your entrepreneurs and startups. Tune in today's episode to know all the talks and discussions that we had on this time of crisis
Get in touch with Preksha Kaparwan at