In today's fast-paced, automated, and digitally advanced society being human are becoming one of the new premium. The internet constantly rewards us with comfort and immediate satisfaction, making the human touch increasingly more rare and coveted. In this environment, businesses can no longer afford to be faceless entities.
For survival, the need to connect with their audiences, pull out the stories and engage with them on a much deep level compared to other brands. This is the place where storytelling comes in Play. Brand storytelling is a process where companies bring up waves about the facts and emotions that their brand evokes.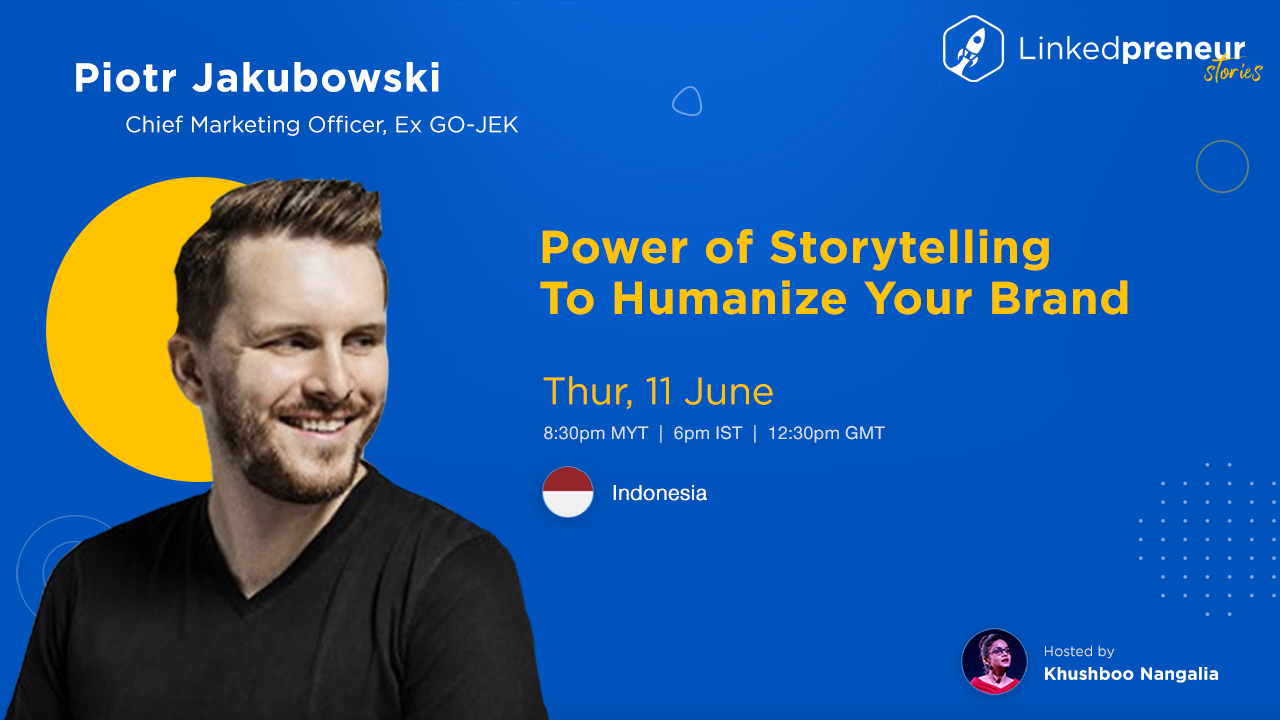 Today in our Ep03 of Linkedpreneur Stories we have someone who has created amazing stories for so many brands, agencies & has worked with all top-notch companies. Welcoming Piotr Jakubowski, Former CMO of Gojek and Founder of We are not Machines.
He will be sharing with us the "Power of Storytelling to Humanize your Brand" and what impact it leads to companies to be successful and loyal to their customers. He will also be sharing how Data in the present world plays an important part in Storytelling and Marketing.
Data is critical but also it is the heart of storytelling
So if you want to know all the keynotes on How you can be a good storyteller for your brand and how to convey your message with emotion and trust then tune in today's episode of Linkedpreneur Stories.
Here is a sneak peek from today's episode:
Top of the mind recall
Storytelling - Brands
Digital - Difficult
Talent - Work-life balance
COVID - New opportunities
Power - Attention
Dream - Happiness
Vision - Positive change
Family - Everything
Founder - Not for everybody
Piotr - Always trying my best
In this Episode, You are going to know
Piotr's thoughts on the COVID situation and how was his experience with this pandemic?
How was his experience from being a CMO, and transitioning from an advertising background to a corporate world, how did that go for you?
Share with us some interesting campaign that you are a part of or you have come up with that made a huge impact on GoJek
If a brand doesn't have any story, how can they really craft one which can help them to humanize their brand?
Tell us something about your company "We Are Not Machine"?
As photographs tell a story, do you think your love for photography has anything to do with your company We Are Not Machine?
What is that ultimate thing he wants to do in life and really remember form?
One tip that you want to share with the audience about the topic "The power of storytelling" humanizing brand?
It was such a pleasure having Piotr in our show. He really shared some important and key tips to market your brand and be creative with your message and words used in it. Also, we want to congratulate him on being a #Fathertobe.
So as he said if brands have not started using data as a means of storytelling then this is the right time for you to come up with a story and make your brand visible to customers.
Get in touch with Piotr at: