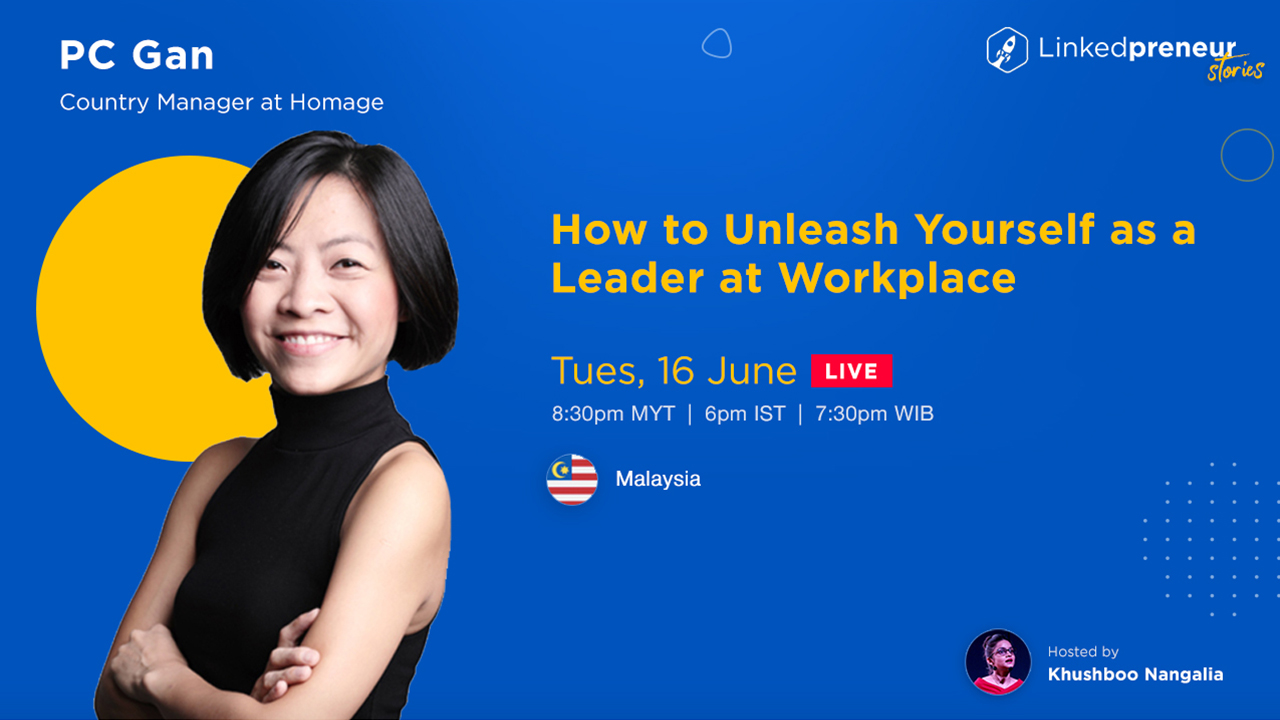 Leadership is more than just a position or job title in an organization or a company. Effective team leaders need a variety of characteristics and skills to increase their team member's spirit so that they could follow them and facilitate success in the workplace. A good leader needs to know what are the qualities that should be spread to influence positivity to other people and can get flexible with the qualities they possess.
There are many responsibilities that a leader needs to have. As a leader, you are expected to be the problem solver among all. In today's EP08 of Linkedpreneur Stories, we have with us someone who has a flair for leadership, a kind-hearted soul, very passionate about her work, and believes in authenticity.
Today's guest is PC Gan, Country Manager at Homage, where she is helping old age people to get the right care back at their homes. She is with us to share her story, experience, and also is gonna tell us How exactly we can Unleash the leader within us.
Don't take things personally, keep having faith in all that you do, and be honest to yourself.
If you want to know more about leadership, how to stay positive, how to handle a situation gracefully, and how you can overcome your self-doubt and conquer the world then tune in to today's episode of Linkedpreneur Stories.
Here is a sneak peek from today's episode:
From your Den
1 morning routine that you never miss out - Stay in bed for 5 min before brushing my teeth
1 travel destination you want to visit - Japan
1 book that you would gift your friend - The devotion of Suspect
1 favorite TV show - Dynasty
1 life mentor - My recruiter
1 animal you resonate the most - Dogs
1 sport you love - Running
1 wish - Start a kids ministry
In this Episode, You are going to know
PC's take on 2020, how is it gonna look like for the corporates, business and also for the personal life?
How has the journey been like from different segments, as she has worked in so many different organizations, and how this is helped you to be who you are at the moment?
A specific incident where she was in an uncomfortable position and how did she manage to come out of it?
How exactly a person may be new or old, actually, unleash the leadership skill they have within them?
Her take on the aspect of the men and women psychology in the workplace?
What does she look in a team member when she is hiring somebody?
What does she prefer more during selections, EQ, or IQ?
How do you manage your relationship with the audience and criticize them on bad doing things without losing them?
What is your view on social media platforms like LinkedIn for business and personal growth?
I was amazed to see how much we think in the same manner. Being a woman and working in a male-centric environment is quite hard. The most difficult part to stay calm and positive. I really enjoyed P.C's thought process and her life journey. She is not only a humble person but also a great leader.
Get in touch with PC at: