As a marketer, it's our dream to expand our business and stand as a pillar in this industry. It's not that easy to build a company overnight or to choose the right team to push the company forward. But I believe if you have the right set of mind with true motivation then anything can be possible to achieve.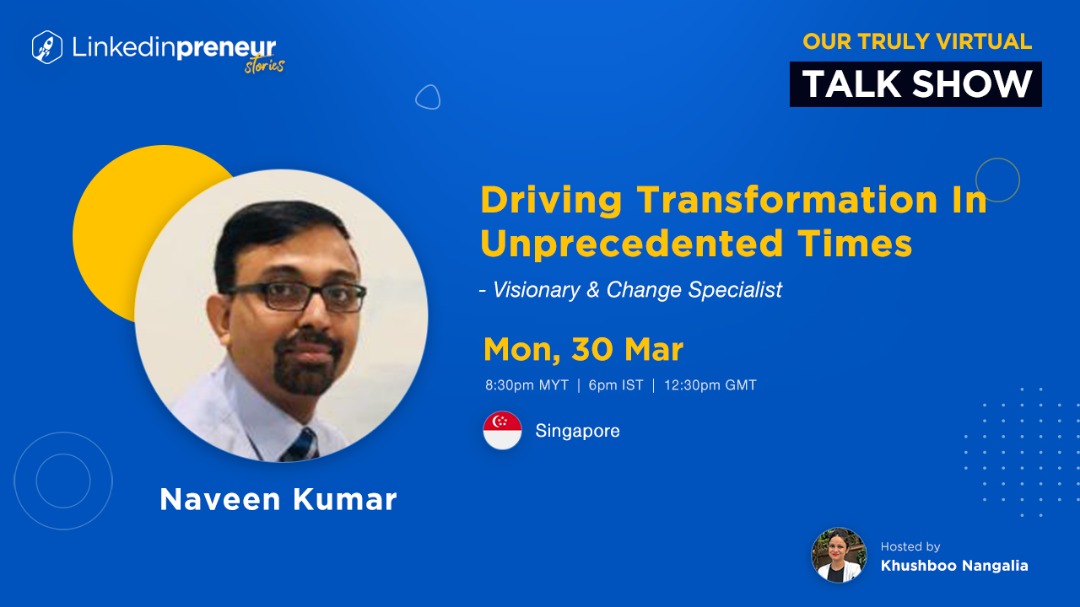 In today's EP06 of Linkedprenure Stories, we welcome Naveen Kumar - Founder and Chairman of Nityo Infotech. Nityo Infotech has 27 offices around the world to manage their clientele present in 23 different countries, which includes fortune 1000 and fortune 2000 countries.
He is here to share his principals, believes and what is the true value of having strong employees means to him. Well, he will be also talking about the COVID situation and how should one always stay prepared if anything happens like this in the future and how to stay strong and focused.
You can't wake a person who is pretending to sleep, you can wake up a person who is actually sleeping
Watch this episode of Linkedpreneur Stories for COVID-19 special and enjoy the Journey of Nityo Infotech, how it grew this big and now having nearly a global strength of 15000 employees throughout the world. What made Naveen to found this organization and how he helps unemployed people in getting a job and helping them get skilled to become successful in the future.
Here is a sneak peek from today's episode:
Rapid Fire Round
Top 3 website you browse the most - CNN, Financial Times and Amazon
Business Mentor - Bill Gates
Life Mentor - His Holiness Radhanath Swami
1 Book - The Journey Home
1 Podcast - Cyber Security threat by Adam
1 T.V Show - America got Talent
Favorite Animal - Dog and Cow
In this Episode, You are going to know
How is he handling things in this COVID situation?
His take on the impact of advertisement
What are the new mission and vision of Nityo after this Pandemic has occurred?
Do's and Don'ts when a company is being acquired from both the perspective?
What is his take on the Malaysian market?
From an organizational and individual perspective, What do we need to do today to pull the future toward us and beat our competition to the future?
Any special gesture that he has shown towards society?
His thoughts when his employees are active on LinkedIn?
What are the 3 qualities that he looks at before hiring any candidate?
It was beautiful chatting with Naveen and knowing his thoughts on the market and business. I just loved how dedicated and passionate he is towards his work and family. If you want to know more about him, stay tuned and enjoy today's episode.
Get in touch with Naveen Kumar at