People in today's time have really forgotten how to manage their money and spend it where it is required. An unstable financial situation cannot only take a difficult term but it can also cause and unhappiness and depression. Due to this COVID-19 breakdown many companies have faced major economic instability and have also shut down. Why many businesses are continuing to tackle the situation and looking for a proper solution, I have started firing many employees and started implementing pay cuts.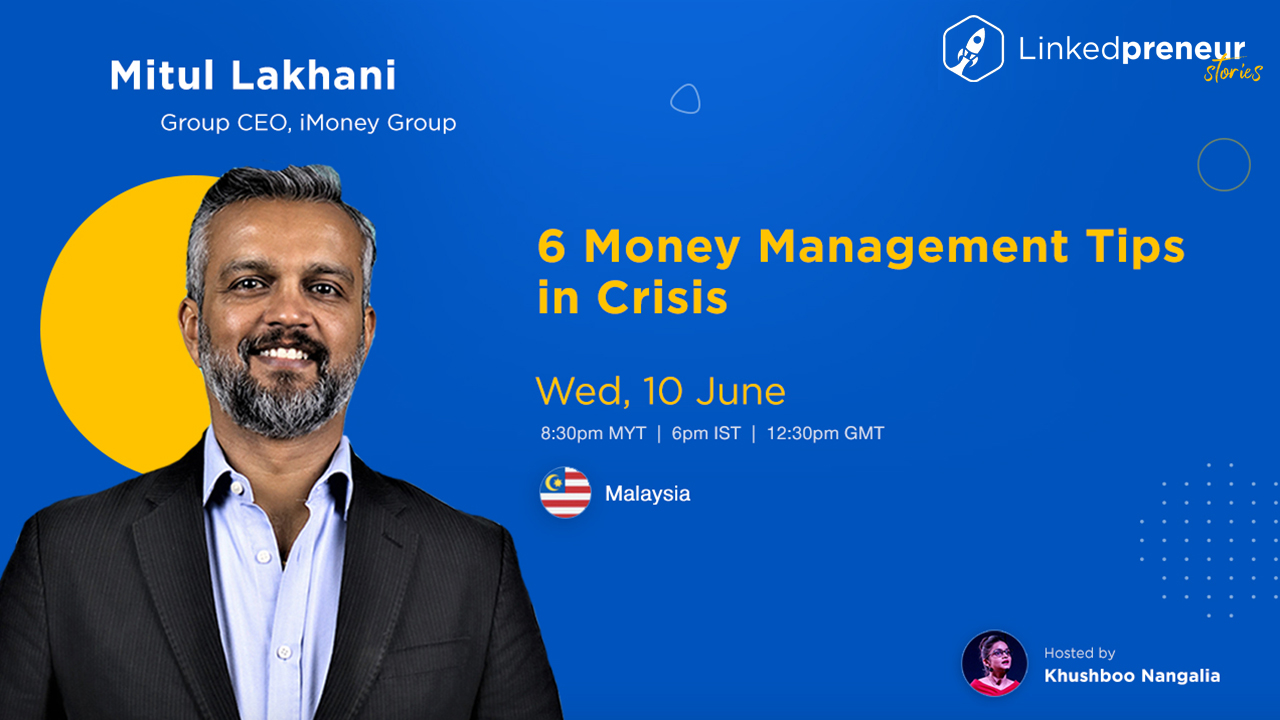 Therefore in time of financial unpredictability and insecurity, we have someone special in episode 2 of Linkedpreneur Stories today. Our guest for today's episode is Mitul Lakhani from #Malaysia - Group CEO of iMoney Group. Having absolutely 'Zero' experience in the Corporate Field now managing a whole enterprise by himself.
He will be sharing with us his "6 Money Management Tips During Crisis". How to exactly save your money in time like this? He will be talking with us about his journey from being a banker to CFO and then CEO. A path that is truly commendable.
Try to understand and make a note where you need to spend your money and where not
So if you want to know all the tips and tricks along with some life-saving advice on a monetary basis then tune in to today's episode of Linkedpreneur stories and get to know how you can save money and spend where needed.
Here is a sneak peek from today's episode:
From your Den
Last three websites you used - BBC sports, Cricinfo, Facebook
One mentor on the business world - Manager of the British Premier League
One book you would gift to your close friend - Long walk to freedom.
One podcast you listen - BBC Football daily podcast
One T.V show or Netflix - Signal (Korean)
One animal you resonate with - Lion
One wish you have - To be happy in life, spend much time with family and do what I love.
In this Episode, You are going to know
How does Mitual look at this pandemic of the humanitarian crisis?
HOW was his journey from becoming CFO to CEO?
How did he get an interest in the financial segment as you were a banker and then CFO and CEO?
His take on the situation where companies are implementing pay cuts on their employees and even retrenchment?
Do you think somehow multiple training can effect work? Sometimes it's hard to focus on one thing so how can we manage that?
What does he look at people while hiring?
What are some common money mistakes people make?
What advice would you give to our audience and what was that one advice that you get from someone that changed your life?
It was great having such a deep conversation with Mitul. He especially kept a lot of important points out for our audience on how it is important to think about the future before spending everything you have. I am sure this will help a lot of people mainly during this time.
Get in touch with Mitul at: