COVID - 19 has not only impacted on the global economy but has also impacted the lives of different people. Many people are losing their lives and many are facing unemployment and crisis. The State system is getting overwhelmed, laid-off workers are frustrated and anxiety is kicking in.
Company employers cannot solve all this problem but what they can do is, they can provide support to make the employees betterment. They can provide them with unemployment benefits in these unique times. Try being honest with them, tell them what is going on, share the good news with them, and also make them understand their value in the company during this pandemic to make them feel good.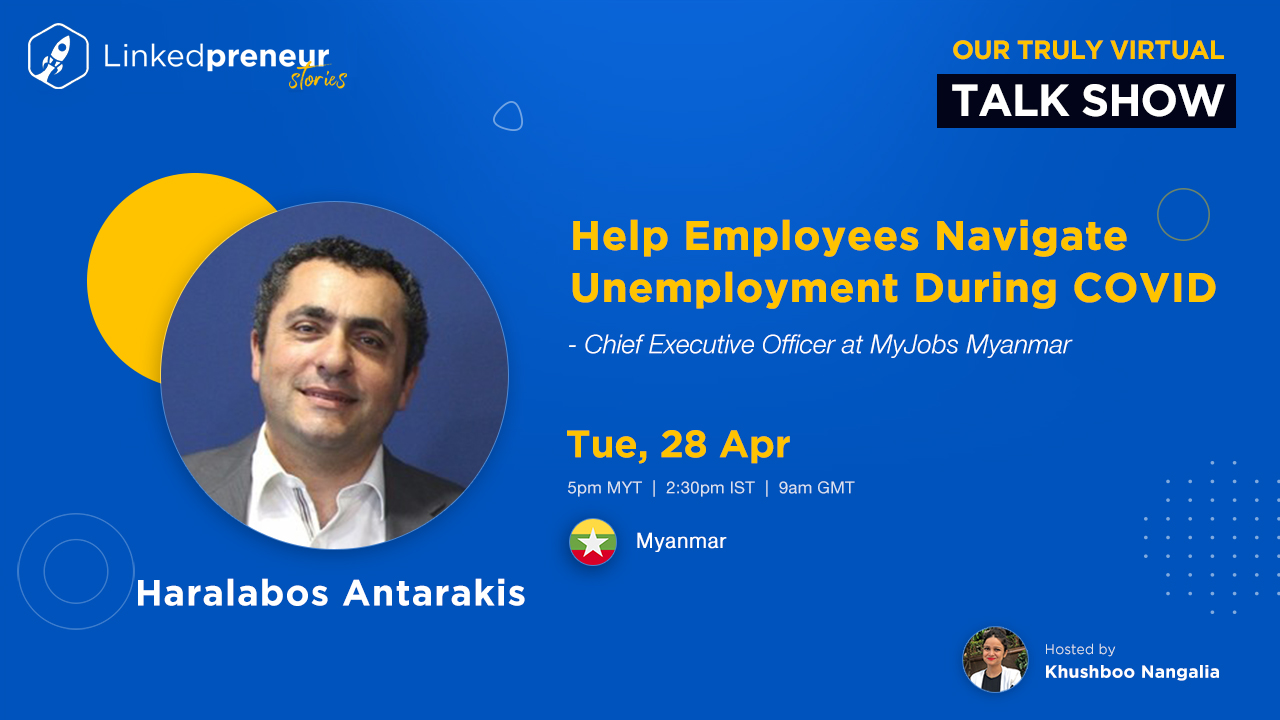 Today in the EP08 of #Linkedpreneur Stories - Edition 1.2 we have someone who knows exactly How can we help employees navigate unemployment during COVID. He will be sharing with us what needs to be done to help them and build faith in them. Welcoming Haralabos (Harry) Antarakis from Myanmar - Chief Executive Officer at MyJobs Myanmar and a digital expert having more than 16 years of professional background across Asia and Europe
He is here with us to share his thoughts on the unemployment factor that is going around and what exactly needs to be done to maintain the balance. He will also be sharing how this pandemic has affected the market throughout the globe and what impact has it left through the world?
Harry advised all the people who are losing their jobs need to stay calm, not to get hyped and build in your skills, learn more about analytics, and maintain a proper schedule of what you need to do. Basically use think time to work on yourself so that you can better opportunity and can be a better version of you
Try not to focus on the Short Term, try focusing on the Longer Term
This episode was full of insights keeping in mind the hard situation that employes are facing and also the companies are going through. It's not easy to go with the flow when things get hard, but all we can do is stay calm, wait for the right time to come and grow to a better version of ourself
Here is a sneak peek from today's episode:
Top of your mind round
Myanmar - Beautiful;
Product - Perfect
COVID - Terrible
Recruitment - Art
CEO - Phycologist
Greece - Beautiful
Your boys - Perfect
Branding - Long term
Passion - Natural
Food - A lot
2020 - Challange
Dream - Big
Family - Most Important
MyJobs - Family
Harry - Great Guy
In this Episode, You are going to know
What are the key skills or key questions that Harry has when he is asking or meeting someone in an interview?
How is the digital transformation happening in the country during this COVID?
What is his thoughts on unemployment and how people will deal with this?
What are the industries that are still hiring in Myanmar?
What is the one thing that definitely discourages Harry to hire a person in an interview when he is speaking to them?
What is his advice for a student who just joined an engineering college and would be appearing for an interview after two years?
What does he think about the people who are looking for a job should push themself out on Linkedin with the proper profile?
How does he think about the work from home culture, and would it evolve after the pandemic?
It was great having him in our Linkedpreneur Stories and give us alot of information that companies and employers needs to implement on their employee during this crisis. If you want to know more about this Topic, stay tune to our Linkedpreneur stories.
Get in touch with Harry at