In the modern digital era, digital technologies are changing the face of the business. Organizations need to digitalize their current ordinary procedures by gathering, investigating, and using the ongoing information to upgrade, change the procedures for drawing in, delivering value to customers.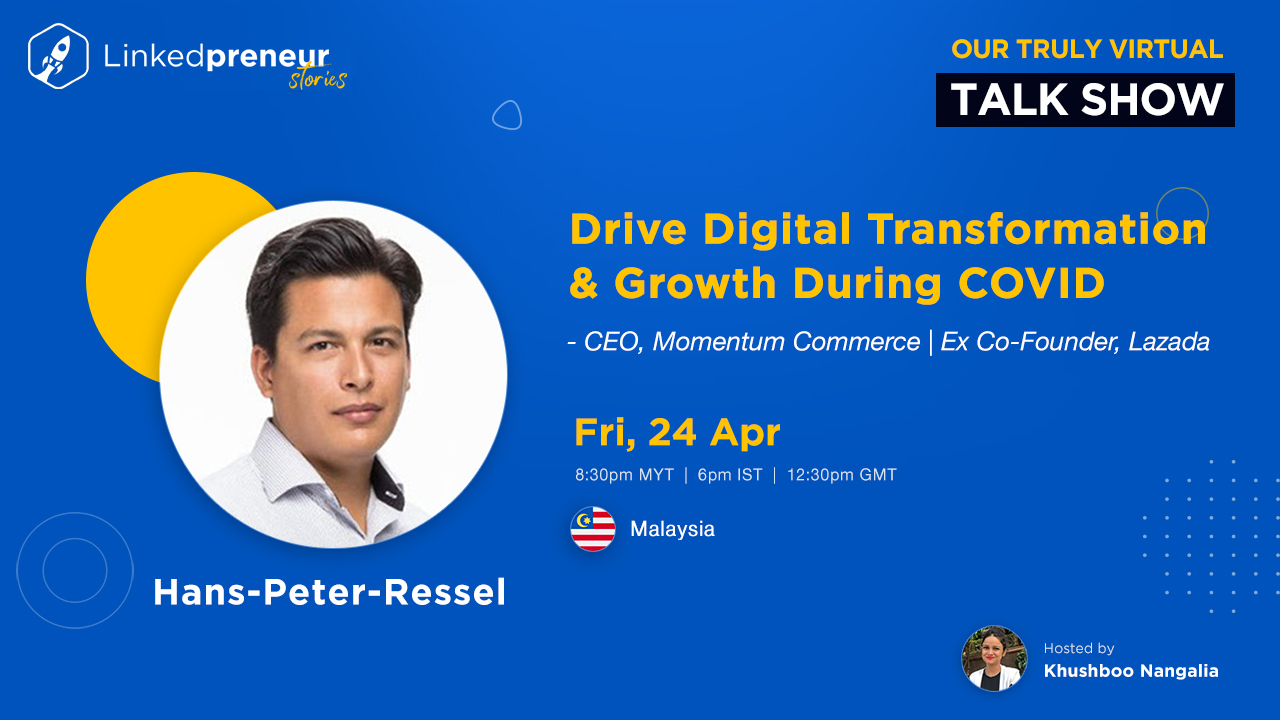 In today's EP04 of #Linkedpreneur Stories - Edition 1.2 we have a special guest with us. He is the one man who bought an unknown E-commerce brand to be Malaysia's Largest Marketplace with more than 3000 transactions per minute in peak times. Welcome, Hans-Peter Ressel former CEO of Lazada & CEO of Momentum Commerce from Malaysia.
He will be sharing with us How to drive Digital Transformation & Growth During COVID and Why it is important to be well prepared in advance? He will also share his journey of Lazada and how did he scale up the market place?
He advised people to be sure before jumping on becoming an entrepreneur. As nowadays everyone just wants to become an entrepreneur just to please the environment and copy what others are doing. It is important to think about the money, mentally preparation, and are you ready to devote your time and everything in this?
Physical transformation is not only a digital transformation, but it is also a complete change of your culture, the way you work with each other, it is a full change in the process that cannot be underestimated
So if you want to know about Digital transformation and how it is impacting the global business then stay with us and watch Linkedinpreneur Stories.
Here is a sneak peek from today's episode:
Top of the mind round
Challenge - Always try to find a new One
Startup - pick difference to a young company
Ambition - The right dose is important, not too much but make sure there is enough
Momentum - Thankful for the people that are part of the journey with me right now
Golf - I want to hit below 20 handicap this year
Survival - Business-wise focus on the health is the center of a business and personal wise care yourself well and treat your body like a temple
Life - Precious, don't waste it make the best out of it
Love - Most important thing, hope everyone finds it
Family - Looking forward to having kids of my own
Malaysia - 2nd Home 2nd Best food in the world
1 word for Hp - Great brands for laptops
In this Episode, You are going to know
What does HP think about the uncertainty that is going on?
His journey in Lazada
His thoughts on how to start a business and what are the most challenging aspect that needs to keep in mind?
What are the key measures that HP takes while getting on board with a new person like while hiring?
What advice would HP give to an entrepreneur starting out on their journey?
During this uncertainty period how one can frame their HR process in means of recruitment, hiring, retention?
What is the ultimate thing that HP wants to do for being remembered for?
Which campaign was very innovative and full of conversions in the journey of Lazada?
I enjoyed a lot hosting HP in our Linkedpreneur stories, he was super candid and explained everything in detail what he wanted to say and that is what I liked the most. So, guys if you want to know about what HP told please tune in to today's episode of #Linkedpreneur Stories - Edition 1.2
Get in touch with HP at