Are you dedicated and have the mindset of being a successful Entrepreneur? Are you passionate enough to conquer the business world all by yourself? Well, motivation and dedication is the key to success. During this pandemic and lockdown, let's not lose hope and shine bright by finding who we are and let's work on it.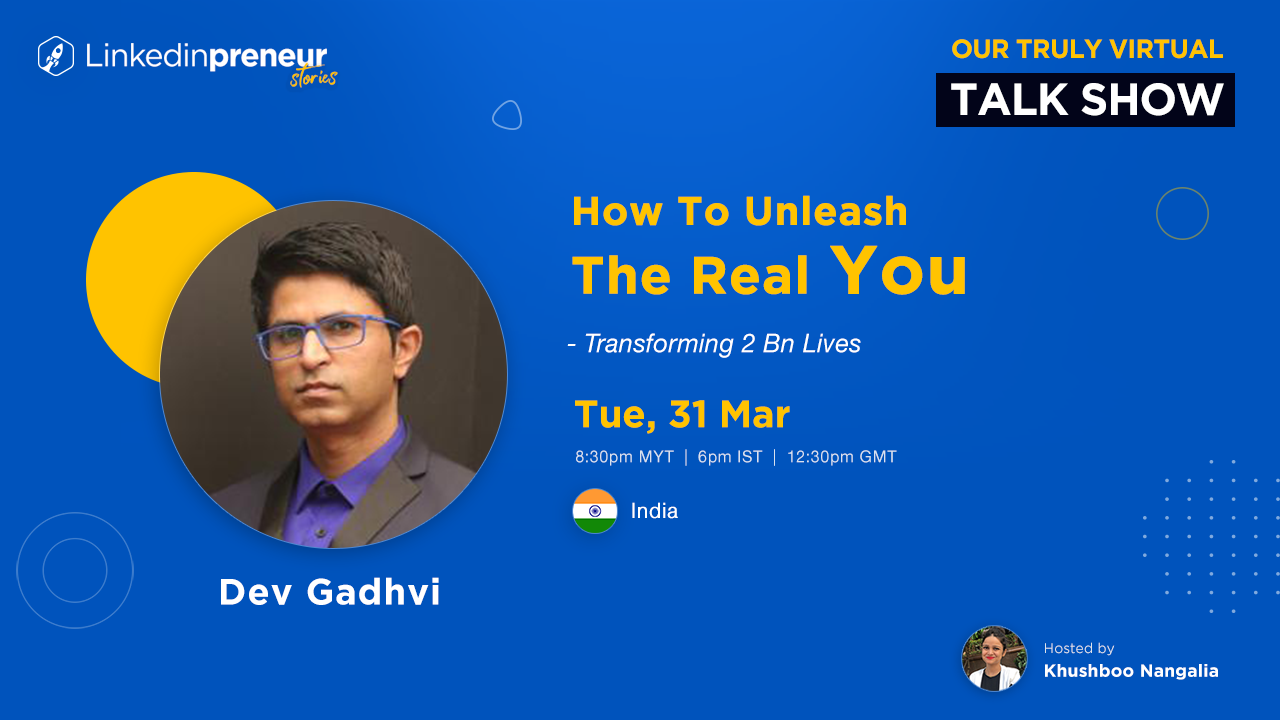 In today's EP08 of Linkedprenure Stories, we welcome one of the well-known figures in the Indian Business world, Dev Gadhvi - Founder and CEO of Passionpreneur Mastermind Mentorship Program & Co-founder of 1 Crore Coach.
He will be sharing how was his journey from being a truck driver's son to India's No 1 Passionpreneur. He is also a TEDx speaker, an author, and also India's top high ticket sales expert. He is here to inspire the youth and also talk about how to be motivated and polish your skills to be a better YOU, in short HOW to unleash the real YOU.
The Universe does not give you what you want, the Universe gives you what you deserve
If you want to know more about Passion + Enterprenureship then this is the right episode for you. Watch this episode of Linkedpreneur Stories for COVID-19 special and experience the journey of becoming India's top Passionpreneure mentor
Here is a sneak peek from today's episode:
Rapid Fire Round
Book - 10x rule by Grant Cardone
1 business mentor - Dan Lok
Personal Mentor - Dan Lok
T.V series - Game of Thrones, Dan Lok's Videos
1 animal - Lion
3 Websites - no website
Audiobook - The power of Influence by Dan Lok
In this Episode, You are going to know
Dev's dream
When / how did he realize that he was ready to add value to people's lives?
How to improve oneself by learning new skills every day and how to manage our time more effectively by doing daily tasks?
How difficult it was for him to learn English, be fluent and then join BPO?
How can you join his mentor program
What is the dark side of Dev?
How can one earn money by doing social things?
It was lovely knowing about so much from Dev, I feel self-driven and dedicated. He was wonderful with his words and how he elaborately defined the Knowledge Zenith Age along with how to achieve and find what you are really good at. Stay tune in today's episode to find what surprise gift Dev gave to his audience which I bet will help to change their life.
Get in touch with Dev Gadhvi at