Are you new to this field of business and marketing? Do you love fashion and want to start your own brand but having difficulty from where to start? Well during this crisis the one thing that we all can do is stay home, stay safe and nurture our inner-self to bring the best within us.
In today's EP02 of Linkedpreneures Stories, I have someone who not only loves fashion but also has come up with his own brand OxWhite. We welcome CK Chang - The White Shirt Disruptor of Asia. He is here with us to share his ideas, experience, and How exactly did he sell his 6000 Shirts in just 6 hours on his launching day.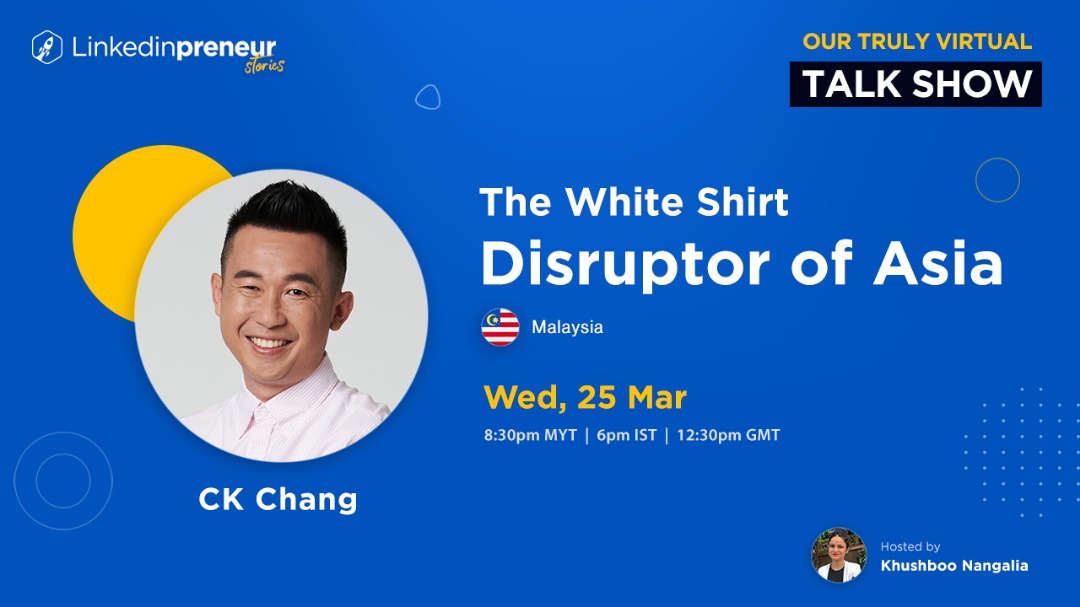 He will be also sharing his thoughts on the COVID-19 situation and the impact that it will leave on our economy and lives and what exactly we need to do to make our business keep rolling in the market even in this crisis
Do not ever get fulfilled for what you have had achieved rather keep working hard to overcome your upcoming challenges
Watch this episode of Linkedpreneur Stories for COVID-19 special and know how to manage difficult situations like COVID-19 and still know how to keep your business rolling without even going outside. Let us all grab the opportunity of this time with the help of digitalization while keeping the ball in our court
In this Episode, You are going to know
What is CK's take on the Lockdown and how is the COVID situation impacted business and his life
How did he manage to sell 3000 shirts in just 6 hours?
How did he got the idea of an iron-free shirt and why exactly the shirts are not available easily?
How did he manage to convince people to wait for 3 months before ordering to get the shirt?
Who is his business mentor, Life mentor, his source of entertainment, his biggest fear and many more
What is his mantra to keep himself on the right track?
How does he deal with marketing to bring new prospects?
Where does he see himself after 5 years?
Well, I simply loved hearing his thoughts on how effective teamwork is and how to grow a small business into something unique and loved. Listen to his unique thoughts and love for his family and how he balances both worlds so easily.
Tune in to today's episode to know more
Get in touch with CK Chang at