In a time of crisis like this, it's hard to get your business on track and also get your mind altogether. During this crisis, if you feel your business is getting impacted and you want to make a change to get a step closer to your goal then this is the right time for you to execute all your ideas and creativity to eliminate the loss of your business.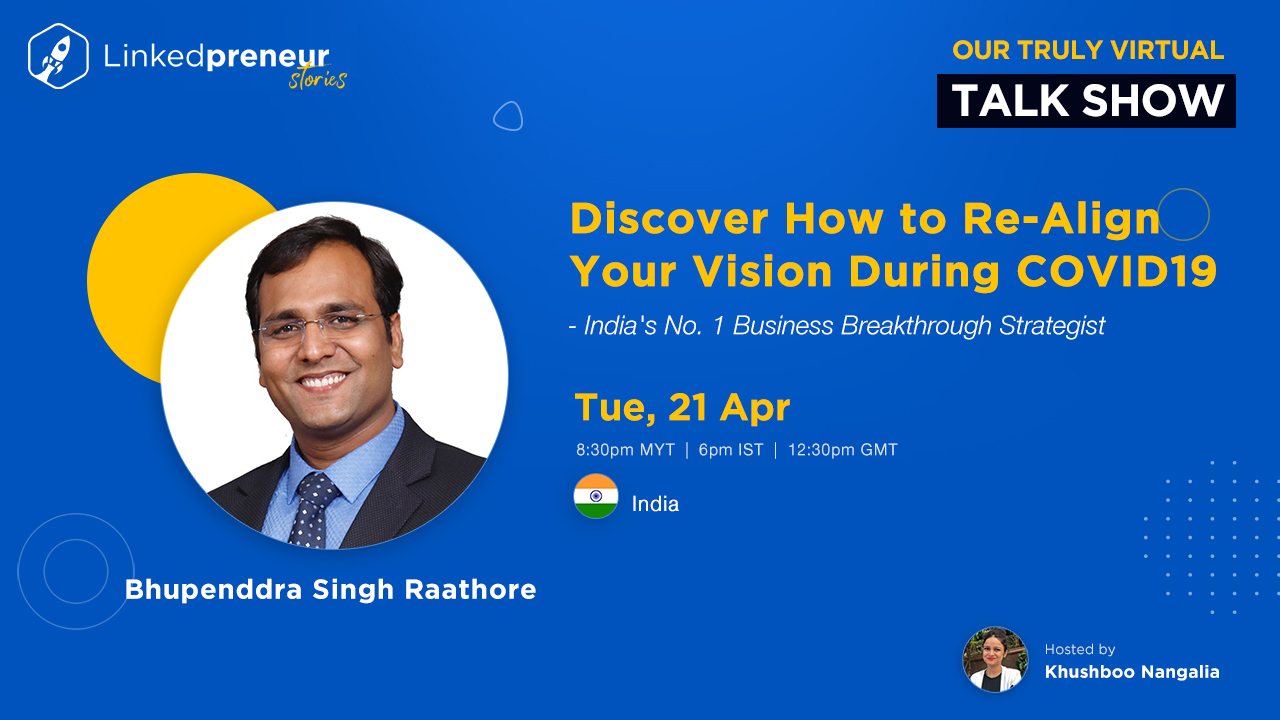 Welcoming our very first guest of #Linkedpreneur Stories - Edition 1.2, Bhupenddra Singh Raathore - BSR - India's No. 1 Breakthrough Business Strategist, a motivational speaker, TEDx Speaker, an author of Master your thought Master your Life and many more.
He is here with us to share his thoughts and ideas on the COVID-19 impact on business and how we can Discover & Re-align our vision to overcome this crisis. Well, he will be also telling us about his life journey from being a shy kid to becoming India's well-known successful speaker.
He struggled a lot in his life because of his poor English speaking skills and lack of self-confidence, which even lead him to think of committing suicide. He attended some motivational talks and that was the first time he realized he was born to win and decides to become one of the successful speakers in India. Now he has motivated more than 7,00,000 lives and helps many to change their vision.
If you support the world selflessly, the whole universe is going to support you endlessly
So, if you want to know more about the Law of attraction & the value of life along with How spirituality is needed to eliminate all the negativities from your life then watch today's episode of Linkedpreneur Stories and get motivated to re-align your vision.
Here is a sneak peek from today's episode:
Rapid Fire Round
Top 3 Websites - Youtube, Netflix, Google
1 business Mentor - Anthony Robbins
1 Live Mentor - Nitya Santi
1 Book - Laws of the Spirit world
1 Podcast - Robert Kiyosaki
T.V Show - Maharana Pratab
1 Pet - Horse
1 golden moment - Speak on UN
In this Episode, You are going to know
Top 3 advice on how to uplift yourself to keep going and not to get disheartened
How should entrepreneurs, solopreneures, founder re-align their vision after this COVID- situation?
One core Suggestion for people who are thriving at the moment to survive and don't have the right business strategy?
Is it important to keep a mentor or an expert in life?
How to control anger when things don't occur the way as it should be?
How to find out your true passion?
What is the Law of attraction and how to implement it in daily life?
It was lovely talking to Bhupenddra Singh Raathore and know his take on this pandemic and how to be motivated and keep rolling the business with the help of the digital platform. His story and his spirit really touched me. Tune in today's episode to know all the talks and discussions that we had on this crisis.
Get in touch with Bhupenddra Singh Raathore at