Mental health nowadays has become common as well as a major issue faced by thousands of people. It not only affects adults but also a large part of youngsters face this in their daily life. You might think mental health is something which is far from you or won't affect you but in reality, it's more common than you think. Mental illness causes disturbances in thinking, behavior, or emotion that make it difficult to lead an ordinary life.
The most common condition of mental health is anxiety, depression, and mood disorder. More than 20% of adults face anxiety each year and struggle with some other syndromes, including post-traumatic stress disorder (PTSD), obsessive-compulsive disorder (OCD), panic disorder (panic attacks), generalized anxiety disorder and specific phobias.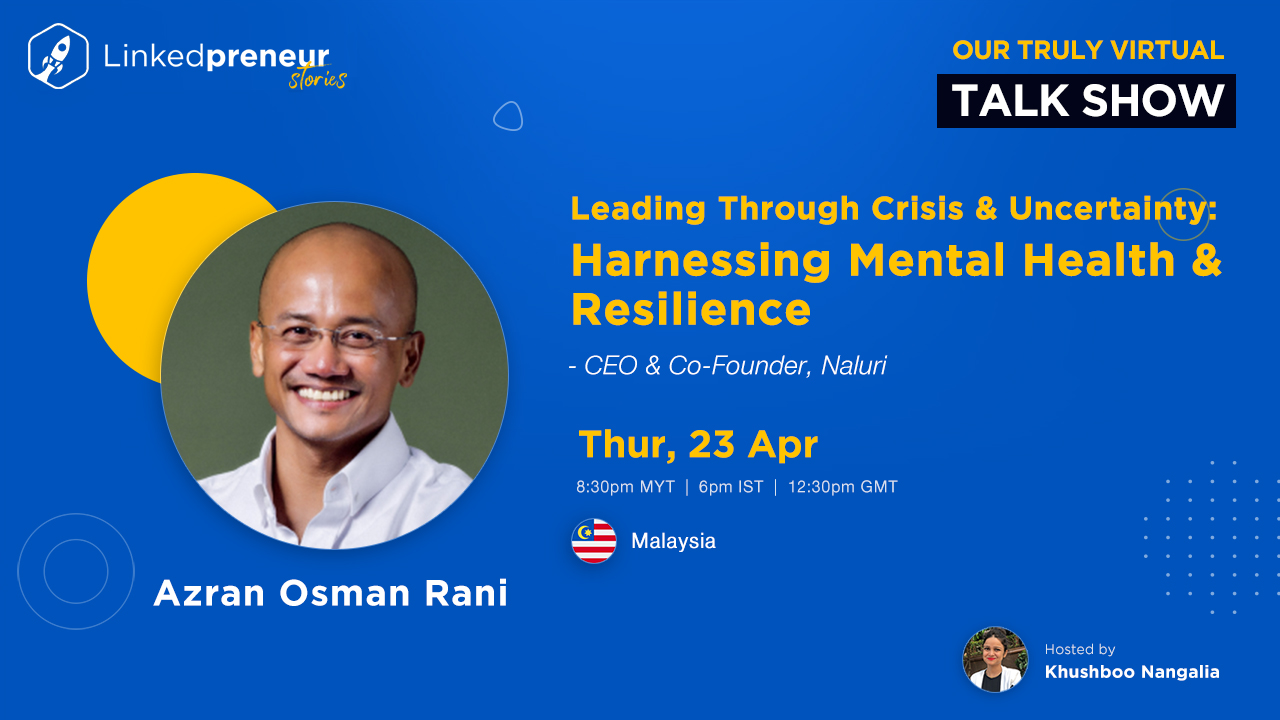 In today's episode of #Linkedpreneur Stories - Edition 1.2 we have a special guest who himself has been in the mental health space for about 3 years now. I am honored presenting Azran Osman Rani - CEO & Co-Founder - Naluri, A TEDx speaker, Linkedin Spotlight 2019, former AirAsia X CEO & author of 30 Days and 30 Years.
He is here with us to share his thoughts on How to Lead Through Crisis & Uncertainty to Harness Mental Health & Resilience. He will also be talking about what is positive mental health looks like and how to practice it to become more focused and more resilient.
According to him, it is important for human to let go of memories, if you keep those memories in your head then after few days it might affect your physiology because the same hormones that meant to keep us alive are working for nonstop for that span of time which lead to high blood pressure, severe conditions and all.
The craziest ideas come when you're totally desperate.
Here is a sneak peek from today's episode:
Top of the mind round
Goal - 1M healthy people in South East Asia
Inspiration - My 3 Boys
Health - Important
Love - My wife
Idea - New Algorithms
Growth - Learning from young People
Innovation - Faster Bicycle
Agility - Speed
Digital - Opportunity
Journey - Lots of Bumps
Startup - Lots of Fun
Azran - An ongoing story
In this Episode, You are going to know
How does Azran look at this pandemic specifically keeping in mind the corporate segments and the economy we are seeing today?
How can you manage your mental health with the current situation?
How did Azran tell his mind to come out and shine as ever as he always did?
How did Azran venture into the healthcare industry coming from the corporate world, moreover what is his take on traditional and complementary healthcare approach?
What would be the "New Normal" for health care post COVID-19
Why does Azran think being in a structured approach for startups is something important?
Core tips for startup founders or budding ones to start journaling
Suggestion from Azran on what should one do on the early stage on Mental health
It was truly such an amazing discussion on Mental health issues and what one needs to do on overcoming this. So, If you want to know more about the cause and symptoms and to deal with them, tune in today's episode of Linkedpreneure Stories to know more from Azran
Get in touch with Azran Osman-Rani at