Well, I am sure many people had that phase in there life where they dropped out of college and did not know what to do next. Dropping out of college is a very common thing for this generation and thus comes depression and anxiety. The truth is that too many students invest their time and money pursuing a degree they never finish, as often as possible ending up more awful off than if they'd never gone to grounds in any case. The most common reason is that they pursue something that they don't want to and end up giving up due to lack of interest and passion.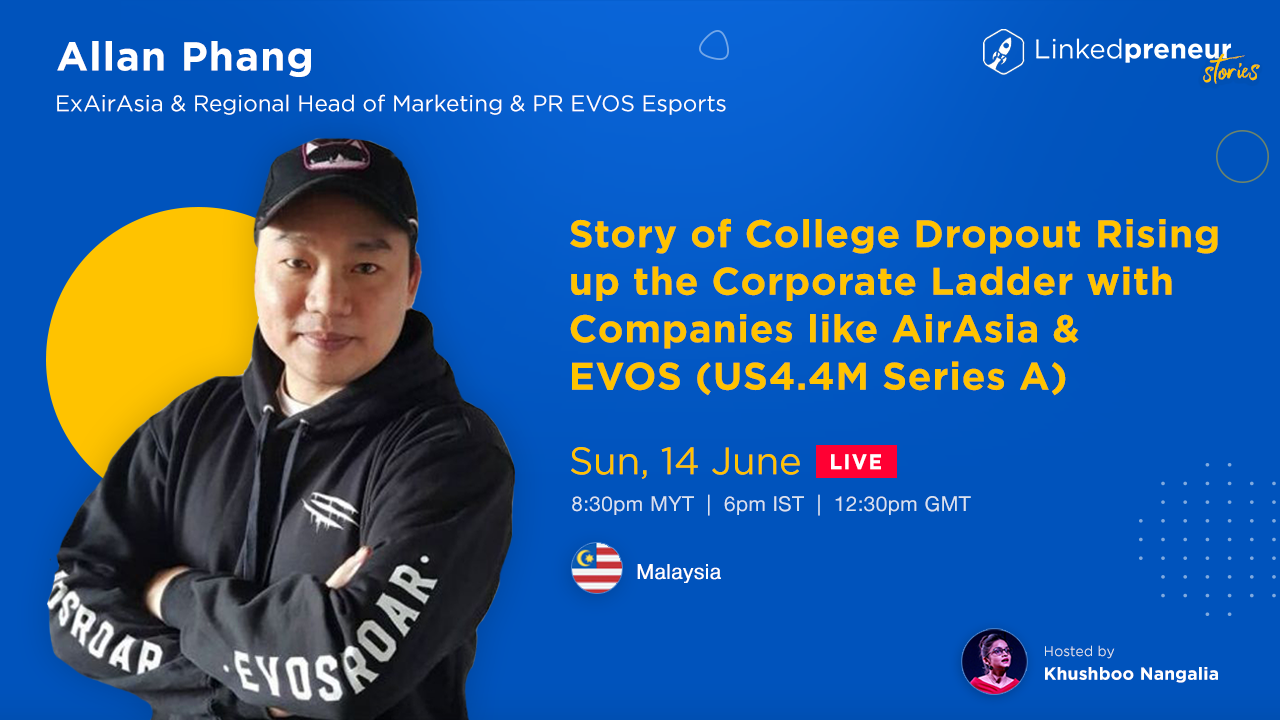 Well in today's EP06 of Linkedpreneur Stories we have someone very special with us, he is not only an eminent speaker, a known face in Malaysia but also a college dropout. We have with us Allan Phang, #xAirAsia & Regional Head of Marketing & PR EVOS Esports.
He is here to share with us about his journey from different fields and how he ended up as a Regional Marketing head & PR EVOS Esports. Also, he will be sharing with us some important lessons on how one can concur the ladder of the corporate world.
Keep on doing the right thing, eliminate the negative noises and surround yourself with good people
He is the perfect example of achieving your dream without having a proper degree, the most important thing is being dedicated and goal-oriented and doing what pleases you. If you want to know more about Allan and his journey then tune in today's episode of Linkedpreneur Stories.
Here is a sneak peek from today's episode:
Head or Tail round
Japanese cuisine or Korean cuisine - Korean cuisine
Online or offline - online
Caps or jackets - caps
Success or failure - success
Fame or Fortune - fortune
Day or night - night
Work or play- play
Esport or Marketing - Esport
Linkedin or Facebook - LinkedIn
Travel or stay at home - stay at home
Passion or purpose - purpose
Fame or money - money
Friends or family - family
Malaysia or Singapore - Malaysia
In this Episode, You are going to know
How does Allan look at this pandemic and what is your Outlook?
What was the one thing that Air Asia loved about him that they were ready to let go of his college degree?
Top three learnings that he learned by traveling around so many countries across the world?
Do you think being a people's person is one of the core reasons for your success?
What were those 4 lessons that you wanna share audience as you were able to conquer rising up the corporate ladder?
What is the one thing that Allan loves about branding and hates about it?
What would he suggest to someone looking to reinvent themselves on the professional front?
One closing thought someone who is having a difficult time at work, what do you want to tell them?
Truly it was amazing talking to him, being a college dropout does not mean that you will stop running after your dreams or passion. Never give up on dreams and it is important to find a way to achieve them.
Get in touch with Allan at: