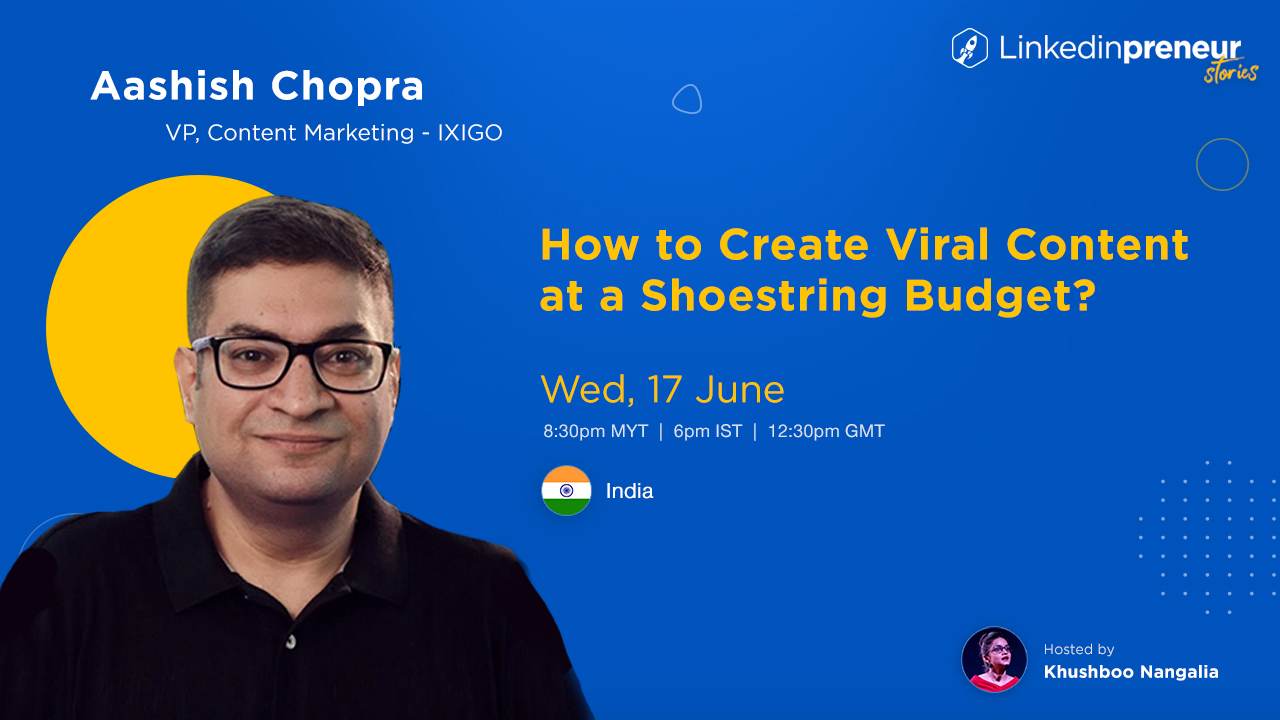 Well we all know creating content is easy but to make it viral is way difficult then it seems. There are thousands of competition out there struggling to win the race of this content writing. It is true there is a different factor that plays a role in making content viral. While there's no proven formula for getting millions of like, certain strategies will quite often deliver preferable outcomes over just sharing your posts on social media and hoping for the best.
But there is one such factor that does play a role in making a content viral, and that is Money. Yes so to know more about this and how to viral our content at a shoestring budget? In our last episode of Linkedpreneur Stories we have with us Aashish Chopra, Viral Video Marketer. His content gets viewed more than 317 million times. He will be sharing with us what it takes to viral content and how to gain consumer attention to make that perfect content easily.
Storytelling comes before production value
If you want to know more about content marketing, ideas, and also what is the future of it then this episode is perfect for you. Aashish has shared some amazing tips and thoughts on content marketing and how can you be creative and never get out of ideas.
Here is a sneak peek from today's episode:
From your Den
3 website you love the most - Google images, CNN, LinkedIn
1 mentored in your life who has made a huge impact - My friend's friend
1 thing in a day you never miss out - Work
1 thing you love collecting - Coins, ideas
1 animal you resonate the most - Cat
1 wish you wanna fulfill - to make a peaceful world
What is that one thing that you really want to change in life - Nothing
In this Episode, You are going to know
Brands are finding it difficult to even justify what is it that can help them to be relevance, what is your reaction on the word relevant from the brand's perspective?
Why did Aashish got associated with the word viral?
What was the method to the madness that he figured out of that viral content?
How exactly should we get a viral video done in a shoestring budget?
How to think creatively when you think out of ideas?
As per the recent trend in online education across the global special in India, what matters the most, is it creativity in content or easy to understand video lectures with example?
Can you take us to a brief journey from the seeding of an idea today to the last step of its execution, how do you trace the entire journey?
How exactly should one start thinking about the process of the idea?
Well, guys, this is our last episode of Linkedpreneur Stories, it was a privilege to get Aashish on our last episode. It is true content marketing is at its peak and it is the major reason to make a brand successful. So if you don't wanna miss out all the tips then tune in today's episode
Get in touch with Aashish at: