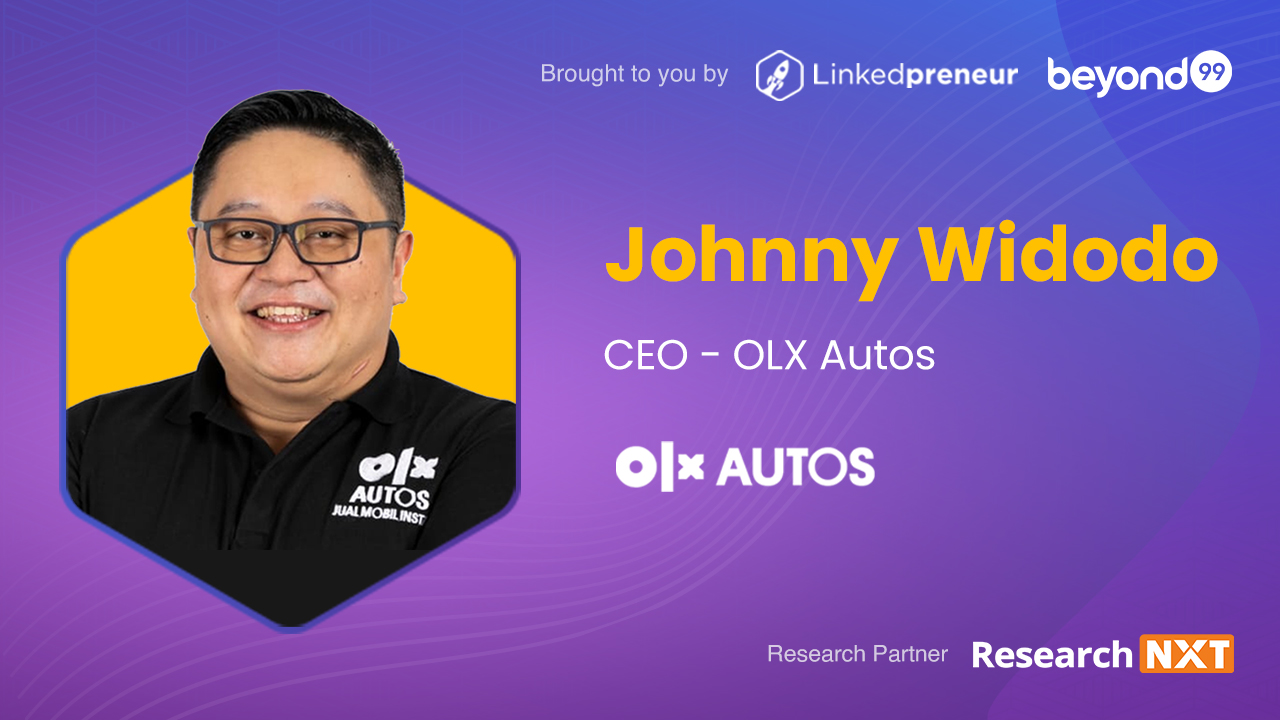 CEO OLX Group Indonesia, Johnny Widodo on business rebound strategies that businesses should adopt for facing the growth phase post-pandemic.
In this Research NXT Interview, Johnny Widodo, CEO OLX Group Indonesia, talks to us about the evolution of the digital-first industry since the pandemic started and how people and businesses' behaviors have changed. He also discusses the trends emerging in the Southeast Asian markets in the new normal.
Key takeaways from this Research NXT interview:
The rapid acceleration of digitization among businesses.
Innovations launched, which is on the cars for OLX Group in general and OLX Autos in specific and other automotive industry players.
Critical steps to the business rebound strategy to be adopted by businesses.
Here are some extracts from the insightful conversation we had with Johnny.
Research NXT: Thanks, Johnny, for your time today. You've been very closely associated with multiple digital-first initiatives, OLX Autos (part of OLX Group) being one of them. So, if could you give a brief about your journey and the current role at OLX Autos?
Johnny: We see this, and by the way, this data is also available online that the dealers sold around four to five cars per week, on average before COVID-19. Then during the pandemic, it dropped to one or nothing at some point. However, we are probably running at around three to four cars per week in this moment of transition, roughly. So that itself tells us that we are around 80% of the Pre-COVID conditions.
Secondly, we also ran a survey with our potential buyers. And to your point exactly, the buyers are beginning to realize the need to buy their own cars instead of using public transport or ride-sharing platforms to ensure their families and themselves' safety. So, many people who plan to buy a new car now have many concerns about the continuity of their income and buy a second-hand car instead. They are seeing where the economy is going. Another thing that is being considered is that 70% of people who buy a vehicle use financing options. And the financing companies are now taking more precautions in releasing their funds because of the fear of not recollecting the loans or repossessing the vehicles in case of another economic emergency. However, the good news is that I think the past two to three days, I've seen some news where the Central Bank has mentioned that there is a growth of the credit in Indonesia, and next year it is going to be about 7% to 9%, which is good. The macroeconomic indicators like GDP growth, inflation rate, US dollar exchange rate, and deficit are looking good. I guess for the businesses now; it's an upward trajectory.
" The key is to put trust and peace of mind for the consumer as a priority by being transparent in the processes."
Research NXT: Most businesses are innovating across business functions and diversifying their product/service portfolios, leveraging tech due to uncertain times and as part of their bounce-back strategies. What are your plans for OLX Autos? Are you contemplating adding financing and insurance options to your customers?
Johnny: As mentioned earlier, we are trying incrementally to innovate with options like home inspection and our dealer franchising models. So we help our partners to make sure that they are still in the business and grow together with us where we help them with deal assistance. And the most recent one is we are going into that retail business.

In terms of innovating the business, one of the things that we are looking into, and hopefully, it will be launched in the next couple of months, is the option of self-inspection of vehicles before selling. In this model, the seller would perform the vehicle inspections themselves and upload the details online for the dealers or businesses like us to offer them a price. This moves from offline and tries to push the business as much as possible towards the online side.

Some businesses are then trying to introduce the subscription model of owning a car instead of buying another option. However, the key is to put trust and peace of mind for the consumer as a priority by being transparent in estimating the price of a used car based on inspections. So, whoever can crack that will probably be able to win the market.

Thirdly, we as businesses need to leverage each other and graduate from being pure classified players to transaction players. Because at the end of the day, it is a more sustainable business model where volumes of transactions are more compared to being just a classifieds business. We need to collaborate with convenience and retail stores and be a platform where volumes of transactions are higher.
" When businesses start to plan, the focus should be on incremental innovation, incremental benefit, and incremental improvement on the current existing product, or is basically switching towards a very new product. "
Research NXT: What are your recommendations for businesses from a digital-first strategy considering the new normal? What should they consider in their business strategy while they're planning for next year?
Johnny: This is exactly the things discussed in my book, but unfortunately, it is not available in English. So, three steps should go into the strategy. One is basically to survive, the second is to plan, and the third is to grow in general. And, and that applies not only for businesses but also towards the individual itself.

This pandemic will not get over soon because we will have to test its effectiveness, distribution strategy, and many layers of questions once the vaccine comes in. So by every means, I would say even with the vaccine, we probably will need to live with it till the next few years, at the very least. Hence, we will need to survive this. Businesses will need to think and prepare themselves to operate efficiently, and that's where digitization comes in.
That doesn't mean to change overnight and invest a lot in digitization. Businesses can start small and should only spend on what is necessary initially. The business will also need to continuously engage with its customers during this tough period to ensure presence in their mind. Customers will remember us when we genuinely help them during this period.

Secondly, when businesses start to plan, the focus should be on incremental innovation, incremental benefit, incremental improvement on the current existing product, or switching towards a very new product. This is the best time for businesses to train people, get new people, and start building that digitization mindset.

The next one is to have the vision to rebound back by being prepared for the growth phase. Businesses will have to predict the path and market conditions as everything will be on a higher trajectory as we advance. So that's how I see it.